Stacy & Annemarie in Summer Heat
Download the full 1920x1080 HD Video and
61 Images at up to 4000 pixels in the members area today.
Stacy & Annemarie in Summer Heat
Rating: 7/10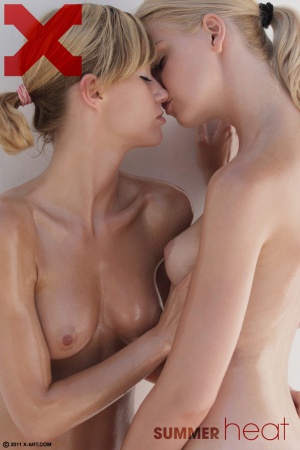 Two hot X-Art models sneak out behind the villa, share some kisses, get naked and explore each others' bodies in the summer heat!

Tall blonde Annemarie was excited the very first time she laid eyes on petite Stacy. Stacy's firm, super-perky breasts looked AMAZING, and Annemarie was just dying to know what they felt like.

The two girls were sunbathing outside the villa when Annemarie took Stacy's hand, leading her to a secluded spot where nobody could see them.

Annemarie had a determined look on her face, which made little Stacy a bit excited and nervous at the same time. Annemarie backed against the wall and stared into Stacy's eyes for several long moments.

Want to touch them? Annemarie asked, looking down at her own gorgeous breasts. Sure. Why not? Stacy replied.

Annemarie's nipples were perfectly shaped, smooth and pink. Stacy squeezed gently as she felt the firm roundness of Annemarie's breasts.

As if she already had permission, Annemarie returned the gesture. She finally got her wish - a chance to touch Stacy's perfect boobs; which, by she confirmed, were super-springy and well proportioned to her tight little body.

Soon the girls removed their bikini bottoms and let their fingers explore. They traded gentle kisses as 'supposedly innocent' Stacy reached down and spread Annemarie's tight pussy open with two fingers.

Enjoy this photo series and stay cool in the Summer Heat!