Emily in Sweet and Sexy
Download the full 1920x1080 HD Video and
60 Images at up to 4000 pixels in the members area today.
Rating: 5/10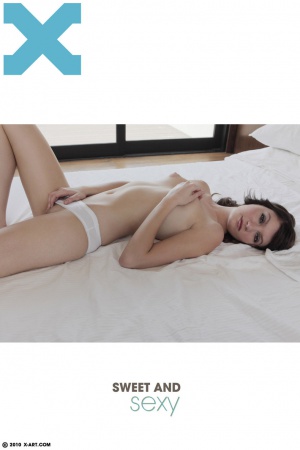 Emily walks towards you, wearing tight white cotton panties and a matching tank top.

Her wavy brunette hair frames her doll-like face and kissable lips. She slips her hand inside her panties once she gets closer to you.

You can see the outline of her pussy through the sheer material. She gently rubs herself, and her eyes roll back in her head.

As she comes to sit on the edge of the bed, she just can't stand to wait any longer. She plunges one finger past the opening of her pussy, pushing it deep inside.

She's so hot and wet inside, wishing you were there to help her. She slides her panties down and starts to play with herself.

She spreads her knees wide apart, for easier access. She opens her pussy lips to give you an inviting glimpse. She can barely fit two fingers inside.

Mmmmmm... that feels soooo good, she moans, gently rubbing her clit. She lifts her fingers to her mouth to taste her own wetness...

Isn't it about time you jumped in to help her finish the job? Go ahead... come inside!