Faye & Leila in Awesome Threesome
Download the full 1920x1080 HD Video and
78 Images at up to 4000 pixels in the members area today.
Faye & Leila in Awesome Threesome
Rating: 6/10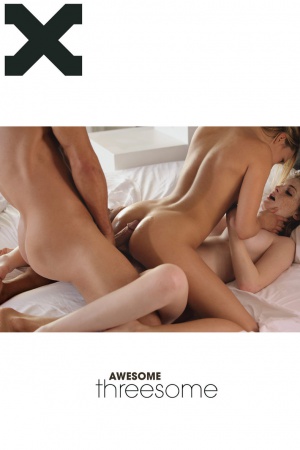 In this awesome threesome, watch Leila and Faye take turns sucking and fucking Mr. X until he can't take it anymore!

Leila and Faye come into the room as Mr. X is sleeping. The girls are laughing and smiling as the fun begins.

Leila moves in and gives Mr. X a passionate kiss, while Faye takes his cock in her mouth. Then Leila takes her turn, swallowing Mr. X's cock while Faye licks Leila's pussy.

The excitement takes hold of Leila, and she climbs on top. Faye gently glides his cock into Leila's eagerly awaiting pussy. Faye pulls him out and licks the girl-cum from his shaft.

Mr. X finds the ultimate position? the two girls on top of each other, with him entering from behind. He takes turns guiding his cock into one girl and thrusting, then pulling out and fucking the other girl. It's a paradise of perfect pussy.

Faye starts moaning in pleasure and Leila can't wait any longer to cum? she slams down all the way on his cock and starts grinding away.

Finally Mr. X sprays his hot cum onto Leila's ass and Faye's pussy. The girls smile and share a sweet kiss. It's a perfect afternoon of pleasure for all?