Heather in Fire and Ice
Download the full 1920x1080 HD Video and
46 Images at up to 4000 pixels in the members area today.
Rating: 6/10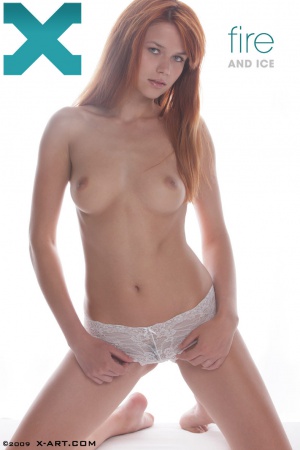 When Heather walked into the room, we all fell in love. She was absolutely beautiful - the kind of girl you would do anything for. We were spellbound... and breathless.

Heather was accustomed to being in front of the camera. Her work as an international fashion model had already taken her around the world.

But this perfect specimen of feminine grace had a dirty little secret; she gets off by posing nude.

Once, at a fashion shoot, the photographer asked me to take off my top, she said. I agreed to do it, and it made me wet - right away. I've never been so turned on in my life!

I think my body is nice. Why not let people see it? she asked, slipping out of her white lace panties.

I clicked my camera's shutter button as a matter of reflex. Heather stretched her naked body across the bed in front of me.

The heat was getting to me. I asked Coco to come and finish shooting the set. I wanted to be sure we documented this living angel from every possible angle.

Our pictures of Heather unique; shot from both a female and male point-of-view. Please be careful - you will fall in Love with her... like we did!