Victoria & Melanie in Every Man's Desire
Download the full 1920x1080 HD Video and
50 Images at up to 4000 pixels in the members area today.
Victoria & Melanie in Every Man's Desire
Rating: 8/10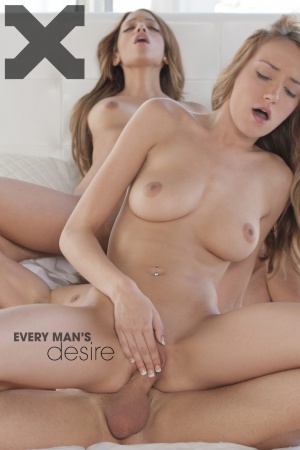 What if one day your wife/girlfriend invited another HOT girl into bed with you... and then she let you have your way with them BOTH?!

That's exactly what happens, in glorious detail, in this X-Art original photo series.

Mr. X is enjoying a romantic evening in bed with his honey. After an amazing blowjob, he starts fucking her - pounding away at her tight pussy.

Just when he thinks it can't get any hotter, Victoria's friend Melanie jumps in bed. At first she just watches, as his cock slides in and out of Victoria. The site of Victoria's pussy juice all over his cock got Melanie super-horny.

Victoria motioned and the two girls moved in to kiss Mr. X. Their three tongues intertwined. Melanie took her turn with his cock. First, she licked and sucked Victoria's juice from the shaft.

She turned around, doggy style, raising her ass and pussy up in the air. Victoria helped position her, as Mr. X pushed his cock inside her gorgeous Latina pussy.

Finally ready to cum, Victoria took another turn riding Mr. X's cock while Melanie held her pussy just above his face so he could pleasure her with his tongue.

They came together - in an incredible three-way orgasm! Cum inside and take a look at this unforgettable photo set!