Emma in Sheer Perfection
Download the full 1920x1080 HD Video and
59 Images at up to 4000 pixels in the members area today.
Rating: 6/10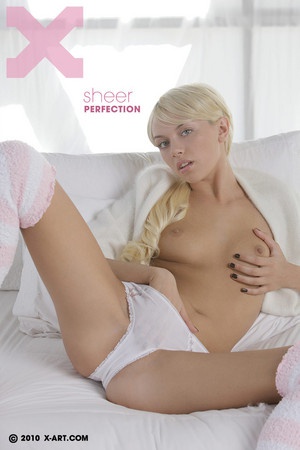 18 year-old Emma looks so cute wearing a fuzzy sweater and spreading her pussy open so you can see inside!

As she rolled-around in bed, Emma said, Oh, look. There's a wet spot on my panties.

She spread her legs wide apart so we could get a better look.

I wonder what caused that, she asked, pulling her white cotton panties aside to show us her perfect pink pussy.

A drop of wetness was clearly visible, dripping out of her. She slowly glided one skinny finger inside, which made more cum drip out.

Mmmmmm, she let out a cat-like moan and rolled her head backwards.

Indulge yourself for a few special moments with this gorgeous erotic beauty... she's sheer perfection!