Kristen in Pink on the Inside
Download the full 1920x1080 HD Video and
40 Images at up to 4000 pixels in the members area today.
Kristen in Pink on the Inside
Rating: 6/10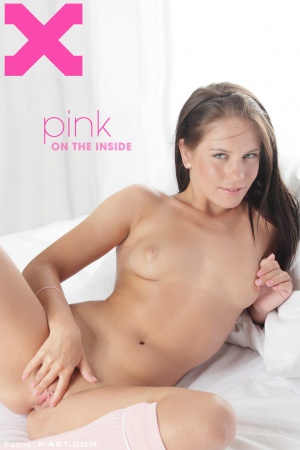 Kristen rolled around on the bed and slipped out of her gray and white striped cotton panties.

Now there's nothing between me and the sheets, she said.

She took her favorite sex toy from under the pillow and wet the tip of it with her tongue.

Even though the toy was small, it was tough for her to get it in. She raised her leg overhead to afford a better angle.

Frustrated, she grabbed the end of the toy with both hands... and pushed it in firmly.

A telltale drop of wetness formed around the base of the toy, where her lips grabbed hold.

Kristen then spread herself open with two fingers and pushed the toy in as far as it would go. The outside end of the toy pointed straight towards the camera lens. The view was amazing!

See... I'm pink on the inside, too, she added, as a huge smile spread across her face.