Sasha D in Between the Sheets
Download the full 1920x1080 HD Video and
53 Images at up to 4000 pixels in the members area today.
Sasha D in Between the Sheets
Rating: 5/10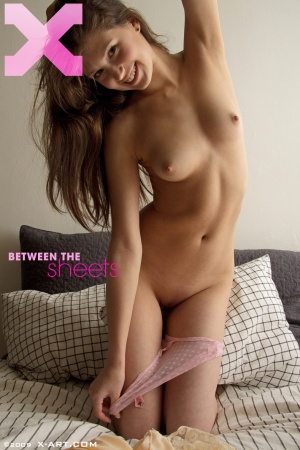 When fashion model Sasha invited me over to her house for a test shoot, I just couldn't resist.

I've never done any kind of nude photos before, but I'm excited to try it with you, she said.

She slipped out of a pair of tight blue jeans and jumped onto the bed. All she wore was a sheer top, a pair of see-thru lacy pink panties and some really cute socks.

Sasha beamed a big smile as she undressed, gradually revealing every inch of her gorgeous body.

Although we had planned to do a soft nude shoot, Sasha got a little frisky and seemed to forget the camera altogether.

Her nimble fingers started to wander inside her panties, eventually pushing all the way inside her tight pink folds.

Her eyes closed peacefully as she touched herself... wave after wave of pleasure came over her.