Tiffany in Mutual Orgasm
Download the full 1920x1080 HD Video and
52 Images at up to 4000 pixels in the members area today.
Rating: 8/10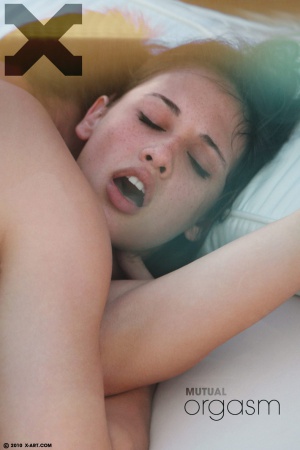 In a moment of passion, Tiffany and her lucky male friend share a mind-blowing mutual orgasm! Tiffany was feeling nice and relaxed after a gentle shoulder rub. She eagerly slipped off her red shirt-dress and wrapped her knees around him - pulling him close.

They both smiled as their lips met in a french kiss. Then Tiffany crawled on top of him, her perfect ass raised high in the air.

She moved down and took his cock in her mouth. It quickly grew rock hard, moving down the back of her throat.

He entered her from behind, pressing his cock as far in as it would go.

Tiffany's eyes grew even more beautiful - with love and sexual energy beaming out of her.

The two moved together, as one. Their eyes locked.

I love you! she said as the orgasm took over. Her lover's cock sprayed a stream of cum inside her. Her face grew flush. They held each other for a moment before he pulled out.

Look what you did, she said, referring to the cum dripping out of her pussy.

She reached down and spread herself open and played with his cum. Fully satisfied, they kissed again...